JBP Placenta Jelly Pure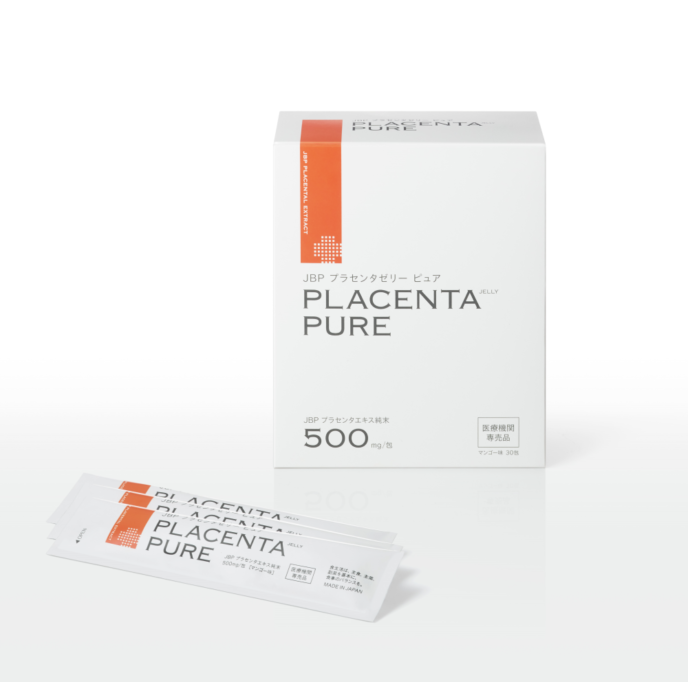 Update new version!
Each jelly pouch contains 500 mg of pure porcine placental extract. The mango flavor makes it easy to eat, and the pouch is small enough to be consumed by itself, making it an easy way to consume placenta.
Placental extract is an ingredient that has been extensively researched for its involvement in functions that help people live a healthy life.
Product Image

Nutrition Facts
Per 1 pouch (20g)
Calories 26kcal
Protein 0.4g
Fat 0.0g
Carbohydrate 6.0g
Sodium chloride equivalent 0.10g
Ingredients
Sugar (made in Japan), Reduced Sugar Syrup, Mango Puree, Placental Extract (Porcine), Palatinose, Agar/Trehalose, Acidulant, Gelling Agent (Polysaccharides Thickener), Artificial Flavor
Content
600g (20g × 30 pouches)/box
Application
Take 1–3 pouches daily, chewing well before swallowing.
CAUTION
・Taking an excessive amount of this product will not further promote health or cure illness. Please observe the recommended daily quantity for consumption.
・Please check the list of ingredients before use. Those with allergies should avoid taking this product.
・In some cases, use of this product may loosen bowels or cause other physical upset. In such cases, please discontinue use.
・Those using medication, regularly undergoing medical treatment, pregnant, or breast-feeding should consult a physician before using this product.
・Do not freeze or heat up this product. This may damage pouches sachets.
・Carefully open pouches to avoid contents from squirting out. Please also be careful not to injure hands or mouth on the cut edges of the pouches.
・Consume as soon as possible after opening the pouches.
・Please store out of reach of children/infants.
・Since this product uses ingredients derived from natural products, the flavor and color of the product may vary slightly, but this does not affect its quality.