LNC Toning Lotion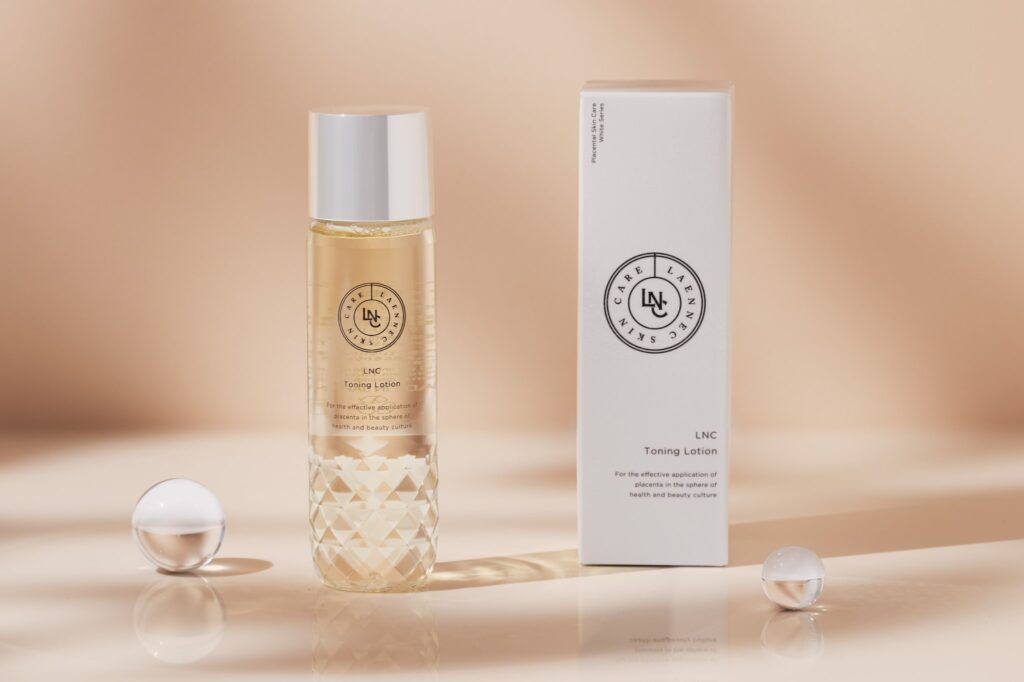 Retunes skin to an optimum condition for enhanced radiance and even skin tone.
This refreshing skin lotion softens the skin and protects it from damaging environmental factors. It also conditions the skin so as to draw out its natural beautiful translucence.*1
*1 By moisturizing the skin.
Content: 120mL
[ How to use ]
| | |
| --- | --- |
| | Take an appropriate amount on the hand or cotton, and apply all over the face. When using as a toning booster, apply several drops before using the next skin care product. |
The skin appears somewhat dull and lackluster? Use LNC Toning Lotion to reactivate the skin.
The product's revitalizing skin-conditioning ingredients, such as placental extract, Vitamin C derivative※2, Giga White※3, and strawberry geranium extract, rapidly enter the stratum corneum, recovering radiance and liveliness. ※2 3-glyceryl ascorbate
※3 A compound of common Malva Sylvestris (Mallow) Flower/Leaf/Stem Extract, Mentha Piperita (Peppermint) Leaf Extract, Primula Veris Extract, Alchemilla Vulgaris Extract, Veronica Officinalis Flower/Leaf/Stem Extract, Melissa Officinalis Leaf Extract, Achillea Millefolium Extract.
Toning Lotion may also be used as a toning booster to facilitate penetration of a next skin care product to be used.
[ Ingredients ]
Water, Propanediol, Glycerin, Placental Protein (Equine), Alcohol, Pentylene Glycol, 3-Glyceryl Ascorbate, Soluble Proteoglycan, Sodium Hyaluronate, Polyglutamic Acid, Hydrolyzed Collagen, Ceramide NG, Dihydroxypropyl Arginine HCl, Octyldodeceth-20, Saxifraga Sarmentosa Extract, Lepidium Sativum Sprout Extract, Malva Sylvestris (Mallow) Flower/Leaf/Stem Extract, Mentha Piperita (Peppermint) Leaf Extract, Primula Veris Extract, Alchemilla Vulgaris Extract, Veronica Officinalis Flower/Leaf/Stem Extract, Melissa Officinalis Leaf Extract, Achillea Millefolium Extract, Citrus Junos Seed Oil, Squalane, Tocopherol, Cholesterol, Hydrogenated Lecithin, Lecithin, Butylene Glycol, PEG-30 Hydrogenated Castor Oil, Pentasodium Pentetate, Citric Acid, Sodium Citrate, Ethylhexylglycerin, Phenoxyethanol