LNC Diaserum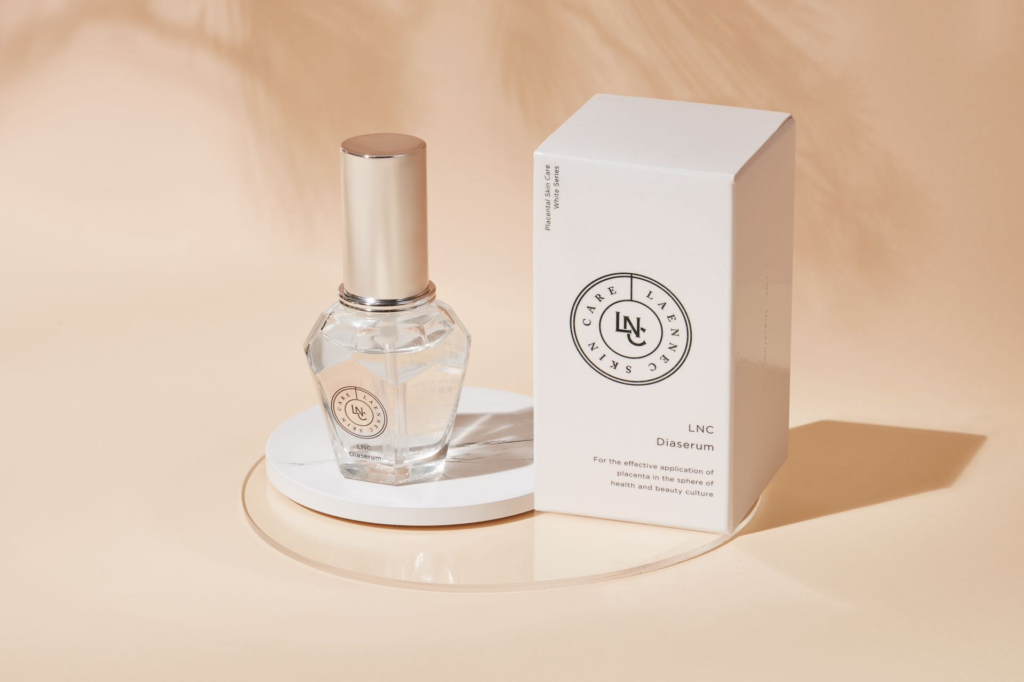 Beautiful skin now, five years from now, and even ten years from now.
Diaserum is a beauty serum created exclusively for the purpose of delaying skin aging. Its every drop is packed with ingredients for aging care*1. This serum is ideal for localized intensive care and general skin care for mature skin, as well as for keeping younger skin free of signs of aging.
*1 Skin care according to age-related needs.
Content: 35mL
[ How to use ]
 < Intensive care >

Before use, wash and towel-dry the skin or condition the skin with a toning product. Take an appropriate amount (one push) and apply to a target area.

 

 < General care >

Use after caring with skin lotion is recommended. Take an appropriate amount (two to three pushes) and apply all over the face while massaging in upward movements as if to lift the face bottom to upward of the cheeks.
Reducing dullness

The placental extract and Vitamin C derivative*2contained in the product condition the skin and facilitate its turnover, regularizing the stratum corneum. This in turn regularizes the grain of skin, leading to a brighter complexion and translucence

*2 Hexyl 3-glyceryl ascorbate

Caring for areas around the eyes and the mouth

The serum is ideal for caring for expression wrinkles. It assists the skin's collagen production, increasing the skin's elasticity and smoothness. With increased skin elasticity, expression wrinkles are less likely to leave lasting traces.

Firmness

The serum adds firmness to the skin by tightly and upwardly bonding intercellular lipids in the stratum corneum. Added skin firmness makes pores less visible.
[ Ingredients ]
Water, Butylene Glycol, Placental Protein (Equine), Glycerin, Sasa Kurilensis Water, Pentylene Glycol, Betaine, Raffinose, PEG-60 Hydrogenated Castor Oil, Hexyl 3-Glyceryl Ascorbate, Acetyl Hexapeptide-8, Alpha-Arbutin, Avena Sativa (Oat) Kernel Extract, Tremella Fuciformis Polysaccharide, Arginine, Carbomer, 1,2-Hexanediol