JBP Skin Poration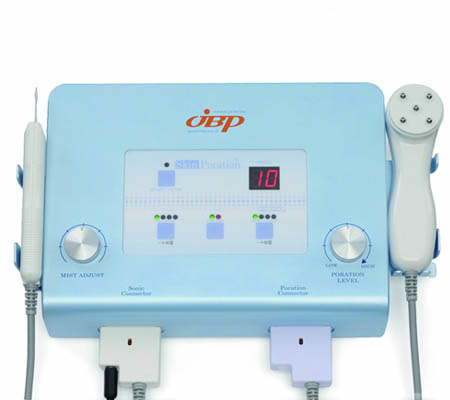 Hybrid beauty device incorporating 3 functions in 1 unit
ULTRASONIC CLEANSING
SKIN PORATION
PATTING & FINISHING
JBP Skin Poration is an electroporation hybrid beauty device which combine the electroporation technique with ultrasonic cleansing and microcurrent in 1 unit.
Electroporation is a system with dramatically low voltage/low current and new waveforms to open skin pores to provide the active ingredient to the inner layers of the skin.
JBP Skin Poration provides a maximum reduction of electric stimuli to the epidermides without metal elution from the probe.
The cleansing probe is made of titanium. Microcurrent function are switchable continuous and intermittent modes which allows better nutrient diffusion/infiltration and lifting effects. Particular advantage is the 2,2 Kg compact size.
JBP Skin Poration is supplied with cleansing and face probes. Hair and body probes are available separately.
Japan Bio Products ensures with this new electroporation device that big molecules or pools of molecules like placenta extracts, hyaluronic acid, DMAE, vitamin C and others penetrate the cells.
Features
1. Avanced Technology
• A systems with low voltage/ low current and news waveforms.
• Maximum reduction of electric stimuli to the epidermides.
2. Safety
• Titanium is used for the sonic probes and all points on skin poration probes.
• No elution of metals from the probes.
3. Multifuntional
• One unit can perform three functions; ultrasonic cleansing, skin poration and patting & finishing.
4. Various Optional Probes for Body and Hair Treatments
Attached Probes
| | |
| --- | --- |
| | |
| Sonic for Face & Body | For Face |
Optional Probes
| | | | |
| --- | --- | --- | --- |
| | | | |
| For body | For Fine Points | Hair Sonic | For Hair |